The Kooks experiment with new sound on third album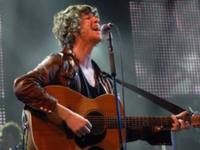 The Kooks singer Luke Pritchard says the band are at a crucial point as they prepare to start work on their third album.
Speaking ahead of their Mencap Little Noise session, the frontman said the four-piece are at a musical crossroads and are thinking about taking on board more electro influences.
"We're trying to think what direction to go in," said Pritchard.
"That's the important thing for us. We have many different ways we could go."
He added: "The third album's quite a defining point and it has to be a statement of where we're going as a band."
Fans of the band, whose last album 2008's Konk, needn't be too worried though.
'Keep our roots'
The singer said they were keen to experiment but weren't about to drastically change their style.
"There will be element on this album where we haven't gone to before," said the singer.
"Possibly using samples and beats but not too far away. We'll keep our roots.
"I'm not about super-techno or anything. More like loops of cool beats."
The band say they have lots of songs written and will be heading into the studio in January to whittle them down to the best 10 or 12.
A summer release for the record is looking most likely.
Pritchard also told Newsbeat a more settled lifestyle, including having a steady girlfriend, had had a positive effect on him.
"It does change things. Not being a nutcase for nine months is quite nice, being in London and not travelling the whole time.
"I've been trying to take it easy. I went a bit mad on the booze.
"I've been doing boxing, stuff like that just to try to keep fit, just getting into other things."