Joe McElderry records soundtrack for next Narnia film
16 November 2010

From the section

Music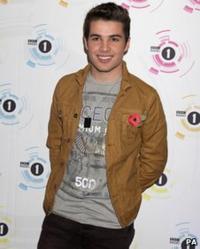 The winner of last year's X Factor, Joe McElderry, says he's recorded the soundtrack to the next Narnia film.
The Chronicles of Narnia: The Voyage of the Dawn Treader is released in cinemas on 10 December.
Joe McElderry, 19, says it's surreal to be involved in a Hollywood movie but also an honour.
He said: "I got approached by Fox to do it and asked if I would sing this song, and I was absolutely honoured and I was like, 'Definitely'."
The song from Narnia is called There's a Place For Us and is released ahead of Joe McElderry's new single Someone Wake Me Up, which is out on 6 December.
The teenager says he's seen an early cut of the film.
"I got a screening of it the other week and it's really good," he said. "I would urge everyone to go and see it. It's a good one."
Joe McElderry was speaking to Newsbeat at Radio 1's Teen Awards, which he helped to judge.
"I presented Jack [Bennett] with his award for young entrepreneur," he revealed. "His idea was so innovative.
"He really thought about it and it was working. It was a successful venture.
"I think that was the most important thing. Obviously we were looking for something that had really worked and somebody who had really thought about it and spent the time on it and it was a massive success."