Young carers are 'four times' the official UK number
16 November 2010

From the section

Health
Isha's mum is asked a simple question: "Where do you think you'd be if Isha didn't exist?"
"I don't think I'd be alive," she replies. "I think I'd have committed suicide."
Sixteen-year-old Isha sits and listens.
"That's scary," she says. "That feels a big strain on me for whenever I do want to leave home."
Mother and daughter live together in a council flat.
Isha's mum has a number of mental health conditions including agoraphobia which prevents her from going outside.
So, for as long as she can remember, Isha has walked alone to the chemist for her mum's medicine, to the post office to pay bills or to do the food shopping.
She says: "On Monday mornings I'll be late for school because I have to wait for nine o'clock for the post office to open.
"I'll get her electric, her gas, and other things like the rent and stuff."
These jobs have to be done on a Monday morning because of another of Isha's mum's mental health problems.
She has obsessive-compulsive disorder which means she can't cope with changes to her routine.
Isha says her teachers are more understanding now but in the past she used to get into trouble for being late.
"They'd be like, 'It's not our problem. You've got a detention,' Which would get my mum really depressed even more."
New figures
New research from the BBC indicates there are many more young people in Isha's position than were previously recognised.
A survey of more than 4,000 UK school pupils found one in 12 had moderate or high levels of caring responsibility. That's four times the official figure.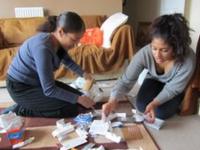 For the UK as a whole, it would mean 700,000 young people taking on caring duties that would normally be expected of an adult.
It's a boost to campaigners and charity groups, who have been arguing for years that the official number is unrealistically low.
They blame the way the statistics were gathered from the 2001 Census survey.
Parents back then filled the form in on behalf of their families and they might not have wanted to admit to being cared for or having problems.
Also, the Census made no mention of young people looking after parents who are alcoholics or on drugs or, like Isha's mum, have mental health problems.
The government's children's minister Sarah Teather says the BBC figures show "the reality of what is going on with young carers".
She goes on: "It is shocking to see they don't get the support they need or the recognition they deserve."
"The government wants to help, which is why we are launching a new strategy for carers later this year."