Student march against tuition fees rise turns violent
10 November 2010

From the section

Politics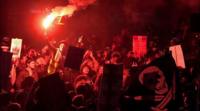 The head of London's Metropolitan police has admitted they weren't prepared for when Wednesday's student demonstration turned violent.
Commissioner Sir Paul Stephenson's saying they were embarrassed by what happened.
Demonstrators smashed their way into Conservative Party headquarters that is close to Parliament.
There were 35 arrests and 14 people were taken to hospital.
The march was a protest against the coalition government's cuts to higher education funding to deal with the deficit.
From 2012 universities in England will be able to charge up to £9,000 a year.
Before the violence Newsbeat asked some of the demonstrators why they were taking part.
Hannah de Freitas, 17, at sixth form college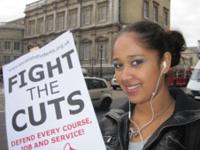 ''I want to go to university. I want to be a teacher.
''It doesn't make any sense making it harder and harder for us to get into uni. We are in an economic crisis right now, we're the ones who are going to have to build back this economy.
''How do you expect us to do that if we don't have the jobs to do that. If we don't have good jobs you cant tax us, if we are working in Sainsbury's how do you expect us to pay the money back.
''I wont be able to go to university, getting loans at the moment is really, really hard. We're going to end up being in debt for years and years to come''.
Jenny Sutton, lecturer at a college in London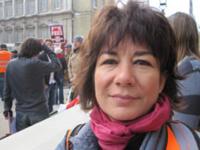 ''I'm here because I think it's completely wrong that while there is record unemployment especially among young people, that this government is imposing tuition fees on a lot of ordinary youngsters that will stop them from going to university. It's completely unfair.
''They should be investing in jobs and investing in the future of our young people. We've got a cabinet of mostly millionaires, who got a free university education and that should be a right for all young people''.
Bill, never went to uni, not protesting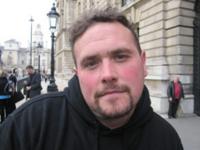 ''How can you knock a person for wanting to better their education. I think the government should do more to help them.
''I'm a scaffolder, I've got a good job and work for a good company but I've not got much of an education and I find it limits my opportunities''.
Facebook comments
But some of you on Facebook agree with the rise.
Jo Trodden comments: "I haven't got a problem with the rise. I've worked full-time since the day I left school. I fund my own home, car and social life and earn a damn good wage without uni. It's a cop out of the real world."
While Mark Day writes, "I think that those who choose uni, good luck to ya but what is wrong with paying fees when you've got a good job, earning good money 'cos of your education."