Hair loss and trichotillomania sufferers 'need more help'
8 November 2010

From the section

Health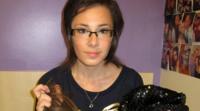 The NHS needs to give more help to people who pull their own hair out, according to experts in hair loss.
The Institute of Trichologists says the NHS should be quicker to help people with trichotillomania, which is thought to affect up to 1% of people in the UK.
It wants psychological help, such as cognitive behavioural therapy, to be more easily accessible.
Marilyn Sherlock, Chair of the Institute, told Newsbeat the most common reaction from doctors was: "Stop it, simple. Just don't do it."
"In general hair problems are not life threatening," she said.
"For that reason they tend to be treated rather lightly, [but] it is much more of a problem than it is considered to be because it's so visual."
The Department of Health says it expects the NHS to take the issue seriously across the UK, but acknowledges talking therapies can have different waiting times across the country.
However, in June, an extra £70m was pledged for such treatments by Health Secretary Andrew Lansley.
'It really upset me'
Emily, 19, started tearing her hair out when she was nine years old.
"My schoolwork went down, and the teachers started to notice my behaviour and they took my mum aside and told her I'd been pulling my hair out."
Emily was put on a waiting list and eventually referred to psychologists. However, she said they didn't properly understand her problem.
"Growing up was really hard because my friends - OK they had like their own issues - but their hair was always nice.
"Sometimes it would really upset me when they were like, 'Oh my hair's not nice today'.
"I thought, 'You can't really complain'.
"At one point it was so patchy my mum had to put ribbons in my hair and tie it up for me.
"I had to just clip up any bits from all different sides of my head. It didn't even look normal, but it was the only way to disguise it."
Treatment
Finding out about sufferers' hair pulling habits is a good way to begin to help, says Marilyn Sherlock.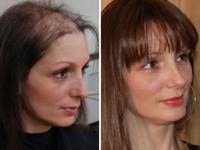 "Is it while they're watching TV or reading a book? We can work out ways of distracting them so their hands are occupied doing other things."
Dr Graham Archard, from the Royal College of GPs, is surprised at the claims that people aren't getting enough help.
He said telling someone to "stop it" just isn't good enough.
"If a doctor is actually saying that to a patient, my advice is to find another GP, find somebody who's actually going to listen."
Lucinda Ellery, who runs a chain of salons that specialise in hair loss, treats hundreds of girls every year.
She said most pay thousands of pounds, though around 30 a year get funding for salon-based treatment from the NHS.