Disney star Demi Lovato enters treatment centre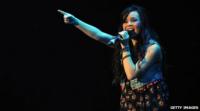 Disney star Demi Lovato has checked herself into a treatment centre to deal with "emotional and physical issues".
The 18-year-old was on tour in South America with Jonas Brothers but left over the weekend to enter an undisclosed facility.
A statement said: "Demi has decided to take personal responsibility for her actions and seek help.
"She is doing just that. Demi and her family ask that the media respect her privacy during this difficult time."
The 18-year-old shut down her Twitter page on Sunday and in an interview last year, Demi Lovato said she had to leave school at one point because she was bullied so badly.
"It was more verbal harassment than physical abuse, but that's actually more scarring than anything," she said at the time.
"And I had to leave because I just couldn't deal with it. And I've home-schooled ever since."
Demi Lovato's representatives said the star regretted not finishing the tour but was "looking forward to getting back to work in the near future".
The teenager released her debut album Don't Forget in 2008 and the follow-up Here We Go Again a year later.
She's working on her third studio album, due for release next year.