Dinosaur Pile-Up excited about 'new beginning'
1 November 2010

From the section

Music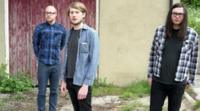 Dinosaur Pile-Up singer Matt Bigland says the release of their debut album and the recent line-up change marks a new era for the band.
The three-piece is now made up of founding member Bigland, plus Harry Johns (bass) and Mike Sheils (drums).
"The bond between us is really strong", admits the singer, who also reckons the addition of backing vocals gives the band an extra dimension.
Live, the band may also be offering fans more 'bang for their buck'.
"Mike's probably the loudest drummer in the world," reckons Bigland. "And Harry's probably the most entertaining bassist you've ever seen."
It wasn't one big bust up that prompted the line-up change, just that old chestnut "musical differences".
"[Steve and Tom] just wanted to do different stuff," admits Matt.
Solo mission
Debut album Growing Pains hit shops a few weeks ago and follows the singer's long-held vision.
Recorded between the line-up swap, Bigland played all the instruments himself and says he wanted it to be "honest and simple".
"The whole band started in my bedroom, just me recording simple little songs and stuff, so I wanted it to be a proper version of that.
"I went out to Bridlington and recorded the record for about two and a half months and I kind of locked myself up."
That dedication and skill echoes one of his heroes, Dave Grohl, who also flew solo on the Foo Fighters' 1995 debut.
From now on Dinosaur Pile-Up is very much a team effort though, and the boys are looking forward to collaborating on new songs.
"It's just more alive," says Matt. "We all believe in it."
The band has also just finished their own tour, as well as playing a few shows with Feeder and are now hoping to get some more support dates.
When it comes to their dream hook-ups they stay true to their alt-rock heritage: The choice picks? "Deftones, Weezer and Queens of the Stone Age."
Dinosaur Pile-Up's debut album, Growing Pains, is out now.