New body armour saves soldier's life in Afghanistan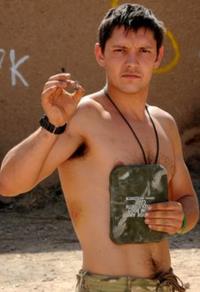 A soldier has defended the army's new body armour after he credited it with saving his life when he was shot on patrol in Helmand.
Ranger Ryan Boyd from The Royal Irish regiment was shot in the side, but the bullet went into the metal plates in his armour instead of his body.
The Osprey armour has been criticised for being too restrictive to move freely and the plates being too heavy.
But 27-year-old Boyd from Northern Ireland thinks the criticism is unfair.
"It's an amazing bit of kit," he said. "People give it bad press but I think it's good.
"If I hadn't had the new body armour and the side plates fitted, the round would have surely passed straight through my lungs and my heart and I probably wouldn't be here now."
The Osprey Assault body armour has all the stopping power of previous kit but the Ministry of Defence (MoD) says it's more tailored for troops in areas like Afghanistan.
They say it's closer fitting, less bulky and easier to move in despite the criticism.
Although the latest armour weighs the same as older equipment, it's a third of the thickness and spreads the load between the shoulders and the waist.
There are also new pockets in the sides which allow soldiers to put in smaller armoured plates roughly the size of a notepad, one of which saved Ranger Ryan Boyd's life.
On patrol
Boyd was on a routine patrol in the Nad-e Ali region when he came under fire by insurgents.
He said: "When I was shot it hit me in the side, it spun me right round and I ended up in the ditch on my back like a turtle."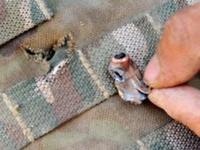 He describes getting shot as similar to "getting punched in the ribs 20 times in one go".
When he got up he felt something running down his chest, but it wasn't blood.
The bullet had gone through his water bottle before hitting his armour.
He says he didn't realise how close a shave he had had until he got back from patrol.
"Once I got back into camp I was pretty shook up, it kicked in what happened.
"When it happened I was laughing about it in the ditch but then it kicked in and I started to feel the fear of it.
"But I'm back out on patrol. I'm all right."
Army photos courtesy of Sergeant Rupert Frere