Spotify denies that it's in takeover talks with Apple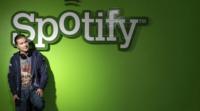 The digital music streaming service Spotify has told Newsbeat they have no plans to sell the business.
Internet rumours circulating earlier this week suggested the company was locked in talks with Apple and iTunes bosses over a possible multimillion pound takeover.
But Spotify says there is no truth in the rumours.
A spokesman said: "We're working hard to build the best music service we can and are in this for the long haul.
"We wouldn't normally comment on this kind of speculation, but we want to make it clear that we have absolutely no intention of selling Spotify."
The site launched major changes earlier this year to try to move towards social networking.
Users can now swap and share music tracks as well as allowing them to check out what their friends are listening to.
They will also be able to import their friends from Facebook and their songs from iTunes.
Spotify is available across parts of Europe but hasn't launched in the US.