Eliza Doolittle: Lily Allen comments 'no big deal'
28 October 2010

From the section

Music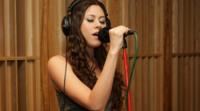 Singer Eliza Doolittle says she doesn't want to get into a "he said, she said' thing" with Lily Allen.
She has been compared a lot to Allen, who recently tweeted: "I'm feeling for Eliza Doolittle, it seems she's sick of being compared to me all the time.
"Then again, maybe if she'd gone in a different direction with her artwork and wasn't riding around on a chopper in her video."
A cutting remark but Doolittle doesn't want to respond.
"I don't really get involved with the 'he said, she said' thing," she told Newsbeat.
"I just want to make good music. Girls are always going to be compared to each other, more than boys I think. I get it."
The similarity between their styles of music is "no big deal" the 22-year-old said.
"It's something I've had to realise, I get that."
Doolittle may soon find herself as well known as Allen, if the public keep warming to her infectious, summery-sounding tunes.
Her second single Pack Up reached number five in the chart and sold 200,000 copies in the UK alone.
Next up for the Camden-born singer is her latest release, Rollerblades - a song she actually wrote about four years ago.
She explained how the main line from the song, "Do you know what you want?" came after an encounter with an angry busker on the Tube.
"I was chewing gum," said the singer. "He didn't look at me but blasted, 'You only care about what flavour gum you have and your hairstyle!'
"I was thinking, 'Shut up, you don't know what I care about'... He was being really nasty to everyone."
Doolittle says the song's about: "People not knowing exactly what they want and taking it out on other people around them, [but] realising we're all in the same boat."
Glee 'mash-up'
The singer is also very much on the sparkling Glee bandwagon.
She's hosting a 'mash-up' party based on the show in November where fans put on a performance in the hope of winning a trip to the show's set in LA.
"I am a self-confessed Gleek myself," admits Doolittle. "I got the box set and now I'm addicted."
"I think Sue's my favourite. I know she's the obvious choice but she's just brilliant.
Predictably she'd jump at the chance of getting one of her own songs in the show: "Oh yeah, definitely! That would be an honour," she admits.
Doolittle is also looking forward to her tour with Paloma Faith, which begins on 30 October in Newcastle: "It's gonna be fun," she says.
The tour takes in seven dates, including Leicester, Plymouth and Manchester, before finishing in Portsmouth on 7 November.
However, when it comes to matching Paloma's offbeat dress sense, the singer's not even trying to compete.
"I don't think that's possible," she says.
"She's got an amazing eccentric style and I wouldn't even try to overtake that - it might be impossible!"