Lindsay Lohan avoids jail but goes back into rehab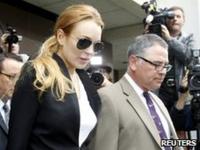 Lindsay Lohan has been sent back to rehab and will have to stay there until January.
The troubled star managed to avoid prison when she appeared in court in Los Angeles early on Friday morning (22 October).
But Judge Elden S. Fox ordered her to remain at the Betty Ford Center until 3 January.
The 24-year-old actress, who appeared in Ugly Betty in 2008, will have to return to court in February.
Prosecutors wanted the star to be locked up in prison for six months as rehab programmes have failed to help her.
Lohan failed a drugs test last month while on probation for drink and drug-driving.
The star cried after hearing the sentence which means she'll be spending Christmas and New Year in rehab.