Busted's Matt Willis and James Bourne on new album
18 October 2010

From the section

Music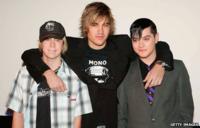 Matt Willis says he and former Busted guitarist James Bourne have been writing new material and hope to have a new album out next year.
The band split up in 2005 after Charlie Simpson decided to quit in favour of another band, Fightstar.
Matt Willis says, so far, just he and James Bourne are back on board.
"Music is always in the back of my head," he said. "It's always the thing that I want to be doing. There's a chance we'll be doing something soon."
Matt is performing in the West End production of Flashdance at the moment.
He says getting older and appearing in the London show have made his writing more mature.
He said: "It's the two guys who wrote Busted songs. So it's going to be a little bit like Busted.
"But we're both 27 now. We're not 17 writing about school teachers and the year 3000. Also we're not writing about really grown-up stuff either.
"The way it's taken shape, it's funny. I don't know if Flashdance has influenced me, but its quite 80s, quite synth-based. But it's still got guitars. It's great. It's wicked.
"Things are looking good. Fingers crossed, we should be making an album within the next six months hopefully. But we'll see."