Hooliganism on the rise among young people in the UK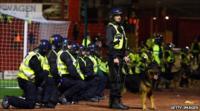 There are nearly three times as many incidents of football hooliganism involving teenagers now compared with 2007, according to an investigation by BBC Radio 5 live.
There were nearly 100 cases involving hooligans aged 20 or under recorded last season with the youngest aged 13.
An internal police report shows more than 3,000 people have banning orders in the UK with 285 against teenagers.
They stop troublemakers getting into grounds for up to 10 years.
The football league say they take the problem seriously but that the rise in violence is small given there are 2,000 matches each season.
Newsbeat reporter Jim Reed has spoken to one young person who's been banned from football matches for three years.
He wanted to remain anonymous.
__________________________________________________________
What happened to make you get the banning order?
It was a friendly match between Southend and Salisbury - hot day, start of the summer, everyone having a good laugh.
They came down, met at the train station, beer cans and bottles started to get thrown around.
Next minute the place is full of police.
I got chased but managed to get away. But later I got arrested at my house.
I spent 13 hours in a cell for it.
Initially I got charged for violent disorder and conspiracy to organise football violence.
What kind of sentence did you get?
Two hundred and ten hours community service for public disorder and a three-year football banning order.
They sort of added certain restrictions so when Salisbury are playing at home I'm not allowed to go into town and things like that.
What did your friends and family say?
It affected my mum the most. She was really disappointed, which I can completely understand.
But you don't think about the people it affects, no one does, they just get on with it.
How do you feel looking back?
I can't stress how ashamed of myself I am for doing it. I don't care what anyone says it's not the right thing to do.
Football's a family game and it should be kept like that.