Rockers Weezer offered $10 million 'to split'
7 October 2010

From the section

Music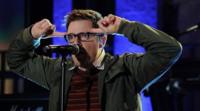 US college-rock band Weezer are being offered $10 million (£6.3m) to split up.
Campaigner James Burns has started an online petition attempting to raise enough money to tempt the band into retirement.
He says it's a campaign fuelled by being "disappointed year after year" by the group's albums.
Writing about his reasons for setting up the campaign Burns said: "I beg you, Weezer. Take our money and disappear."
He added: "Every year, Rivers Cuomo swears that he's changed, and that their new album is the best thing that he's done since Pinkerton, and what happens? Another pile of crap like Beverly Hills or I'm Your Daddy.
"This is an abusive relationship and it needs to stop now. I am tired of endless whimsical cutesy album covers and music videos.
"If all 852,000 of you who bought Pinkerton pitch in $12 (£7.50), we will meet our goal."
So far the petition has raised $12.