Kanye West premieres Michael Jackson-inspired film
7 October 2010

From the section

Music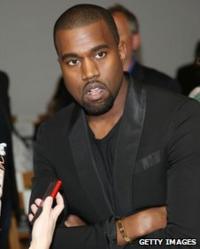 Kanye West has premiered his new short film, Runaway, in London.
He told an audience at Bafta that it was inspired by music videos such as Michael Jackson's Thriller.
The rapper appeared on stage to introduce the 35-minute production before answering questions from the audience for almost two hours.
West said "around 90%" of the music featured in the film appears on his fifth album My Beautiful Dark Twisted Fantasy, released on 22 November.
Kanye West sets the record straight
Introducing the feature he said: "Purple Rain, The Wall, Michael Jackson's Thriller - I wanted to do a modern version of that."
Dressed in a black jacket, large brown belt and black army boots, West welcomed the audience saying London felt like a "second home".
He added the film was "an overall representation of what I dream", inspired by artists like Picasso and Matisse.
The story follows West as he embarks on a relationship with a girl, who happens to be a phoenix, after she crashes down to earth "from another world".
One scene features a huge papier mache model of Michael Jackson's head.
West, who directed and wrote the film along with art director Vanessa Beecroft and producer Jonathan Lia, said it would receive a worldwide premiere within the next two weeks and would also be packaged with his new album.
Speaking to the audience after the screening, West said the feature had been shot over four days in Prague during the summer, adding: "We were doing 20-hour days with no sleep".
Kanye had presented the film in Paris the previous night (6 October).