MGMT 'annoyed' by press reports
4 October 2010

From the section

Music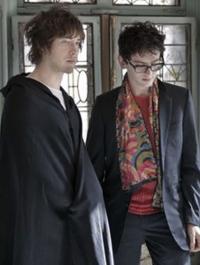 American rockers MGMT have said they're "annoyed" by a number of recent press reports about the band.
Some online outlets said the band's drummer had been hit by a pint of urine during a show in Manchester last week.
Singer Andrew VanWyngarden said: "The whole show was great and it's too bad that people just focus on some rumour. It wasn't urine."
The group said other stories had been "misquoted" as journalists "don't understand our sarcasm".
'Annoyed'
Clearing up the rumours surrounding the crowd missile in Manchester, VanWyngarden said: "What annoyed me most was that no one focused on the fact that it was a great show, that it was sold-out.
"And that we're coming and playing these amazing shows with people in the crowd who're really devoted to the new album and then the focus is on some B.S."
Replying to press reports that the band intended to produce Jedward's new album after a chance meeting in Dublin VanWyngarden added that some British journalists "don't understand our sarcasm".
"The thing is we understand why journalists do stupid things like misquote us. They want to sell copies of whatever publication they're writing for.
"I think it would be beneficial for us to not read any press," he added. "I think that any press is good press."
More hits
Whilst the duo's most recent album Congratulations hasn't been as commercially successful as their debut Oracular Spectacular the band have been playing the biggest shows of their career in the UK. They completed their tour with three sold-out nights at London's Brixton Academy.
They admit they have started talking about writing new material, but that they'll concentrate properly on it in "January or February" next year.
VanWyngarden hinted that they could return to writing more 'big hits' such as Kids and Time To Pretend from their first album. They initially planned not to release any singles from their second album.
"I think playing all over the show you want a track you can play all over the world and just be mindless and the crowd goes crazy.
"We have a couple of them but it would be nice to have more," he said.
With regards to their future plans Goldwesser added: "I don't think that's our ultimate goal is to now play arenas. I think we still feel more comfortable at cooler, smaller places."