Xbox Kinect put through its paces by Radio 1 listeners
This autumn is set to be the battleground for a three-way fight for control of the multibillion pound games industry.
Sony Playstation and Nintendo are pinning their hopes on the development of technology that, to a certain extent, is already out there (Playstation Move and Nintendo 3DS).
But Microsoft Xbox claims its new Kinect motion sensor controller is something completely new.
Instead of the traditional buttons and triggers people will control their game play by using their body movements and voice.
Radio 1 listeners Sam, a 22-year-old electrician from Leeds, and 18-year-old student John from Suffolk have had a sneak preview.
'Bit surreal'
First up was Sam. He said: "It's weird in a good way.
"It's a bit surreal to begin with but once you get used to it it's just ace."
There's no specific release date for the UK yet although bosses have promised it will hit the shelves before Christmas.
If you already have an Xbox the Kinect add-on, which works with any version of the console, will cost £129.99 and come with one game.
But that price tag is enough to put John off.
"£130 is a bit too much for me.
"But the technology itself is pretty good.
"There are a few problems with accuracy but as it's a whole new experience it's quite good."
Kinect works by using three cameras and a microphone to register people's movements.
They are then translated into game play.
'Worried'
Alex Weller works for Xbox.
He said: "Put simply the Kinect software, which really is the magic bit, lets the console see you in 3D and translates that into a fun way to play games."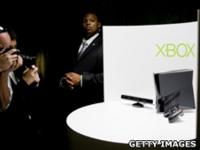 But he wouldn't give a specific number of titles that are going to be available on release.
All he would say is that people can expect ones being developed by EA, Ubisoft and Microsoft itself.
John's worried the new technology won't work with the type of games he's used to playing on Xbox though.
"I don't think I'll get it," he said.
"Especially as the games I usually play on Xbox don't seem to be coming for it [Kinect]."
But Sam reckons it's definitely worth the money and will probably be getting one.
"It's good for single player but socially I think it's going to be really good," he said.
"Technology-wise I think it's amazing and overall I reckon it's top notch."