Kylie: Osbourne feud is 'old and boring'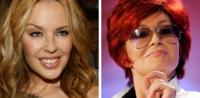 Kylie Minogue has described the public feuding between the Osbourne family and the Minogues as "old and boring".
The families have been engaged in a public spat since Sharon Osbourne left The X Factor in 2008.
Sharon's daughter Kelly recently branded The X Factor judge a "devil" after Dannii reports a bust-up with Osbourne in her forthcoming autobiography.
Kylie said: "I know that Dannii wishes that we could just get past that and let it be."
Osbourne's 'hoo-har'
X Factor judge Louis Walsh has spoken publicly about how Dannii and Sharon did not get on.
However, Kylie, speaking to Radio 1 DJ Sara Cox added: "I don't want to be too involved in this hoo-ha but I think it was definitely real at the time.
"You've kind of got the Osbournes kicking off and the Minogues kicking off and you want to defend your family - that's only right.
"If there's going to be a fuss let's make it a new one."