Ed Miliband: 'I would have served under brother David'
29 September 2010

From the section

Politics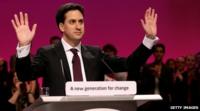 Labour leader Ed Miliband, 40, has told Newsbeat he would have worked under older brother David if he'd won the party's leadership contest.
The MP for Doncaster North became Labour leader after winning the ballot of MPs, party members and trade unionists by 1%.
On Wednesday afternoon, David announced he needs to "recharge his batteries" away from frontline politics. As a result he will not serve in his brother's shadow cabinet.
Newsbeat presenter Tulip Mazumdar spoke to Ed Miliband on Wednesday morning, before his announcement.
_________________________________________________________
I imagine it's been a hectic few days since winning the Labour leadership?
It's been an amazing few days and I'm obviously really delighted to have won, delighted to have had my speech out of the way yesterday and got a good reaction here in Manchester to my speech.
But I know that we've got a long way to go as a political party to win back young people, to win back people across the generations and we're starting out on that journey this week.
You've got the job that was your brother's lifelong dream. You talked about how much you loved him and about how close you are. What did it feel like taking this lifelong ambition from him?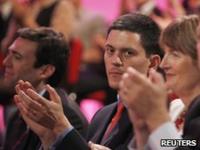 I don't think David would probably characterise it in that way.
I think he felt he was putting himself forward for a job that he felt he could do well.
I was putting myself forward for that job too and we both thought, 'May the best man, or woman, win the contest' and it so happened that I won.
But our relationship is very, very strong and it goes well beyond politics and what happens in politics and it will continue to be a strong relationship.
But it must have got pretty tense? Everyone's got a bit of sibling rivalry but this is taking it to an extreme, isn't it?
Of course people have sibling rivalry but that's not the way I've thought about this contest, to be honest.
I've thought, 'Well, I believe I'm the best person for this job and I'm going to put myself forward' and I think David thought the same thing.
As I say, the first thing he said to me when I said to him that I was going to stand was, 'I'm not going to stand in your way and may the best person win'.
I think that shows the kind of quality of person that he is and I think he's been incredibly gracious since Saturday and I'm really grateful to him for that.
What was the first thing your mum said to you when you told her that you'd won and David had lost?
I think she found out, so she'd already known the result. She sort of said, 'I'm pleased for you and disappointed for David'.
I think she's pleased it's over definitely because I don't think it's what most mothers would necessarily anticipate happening.
But I think she's pretty relaxed about it, she's a pretty robust person and we're all pretty robust people.
We now draw a line under this, we move on as a family and I think that's what we need to do.
David may decide not to be part of your top team, even though you've praised him. But that is down to you isn't it?
He gets to decide what's best for him and his family, and the party and the country and I think that's the right thing for him to do because he needs to feel comfortable with his decision.
What I know is that he will be making a big contribution to politics in one form or another in the future.
He can do it in the shadow cabinet, he can do it outside the shadow cabinet.
He's someone who's not going away as far as politics is concerned and I really hope that he doesn't go away because I think he's got a big contribution to make.
That could be inside the shadow cabinet, that could be outside it and I think that's really important.
Gareth Lovey has texted in from Horsham. He asks, 'If your brother would have won the contest, would you have left the party?'
I would have served under David.
I said that at the time but I don't think anyone can exactly anticipate what would have happened and what they would have felt if they'd lost, or indeed won, the contest.
I give him space and absolutely say that he's right to be spending a bit of time thinking about what's right for him and I 100% respect that decision.
He can't work under you though can he with all the press about the two brothers?
I honestly think most people in the country are more interested in what I'm going to say about the country rather than my relationship with David.
I have a strong relationship with David. What I want to do is to make the Labour Party a vehicle for people's hopes again.
For us to do that we've got to show humility about what we did wrong in government as well as what we did right, understand where we went wrong and start to construct an alternative for the future.
Honestly I think people want to get away from the soap opera and want to start talking about the real issues in their lives.
You're basically in because the big unions voted you in and you said during your campaign that you will definitely attend this major rally against public spending, which is due next month. Are you still planning to do that?
I am. I got the votes of union members up and down the country.
170,000 people voted for me in this leadership election and I'm really grateful to them.
This wasn't about some union barons making a vote, it was about union members voting.
They voted for me because of the things that I talked about and how I wanted to help working people in this country.
That's why I'm the leader of this party.
Are you going to go to that rally?
I am my own person and I will take my own view about what the unions do.
I think unions play an important role in our society in giving people protection at work but I think unions face a big responsibility.
Just be clear. Are you going to march alongside them or not?
I said I'm going to go to the rally, which is what I said in the campaign.
Beyond that, that's all I've got to say.
What I am saying to you, because I think it's really important to focus on the big issues here and to talk about the issues that really matter in our society, and that's about the role the trade unions play.
We need responsible trade unions which defend people at work, people working long hours for low wages who need protection.
I think that's what people are interested in.