Children 'need more education about risks of gambling'
29 September 2010

From the section

Politics
Schoolteachers and parents should be doing more to warn teenagers about the risks of gambling, according to a new report from the charity GamCare.
It says providing more support in schools about the issue has become just as important as education on alcohol abuse, safe sex and smoking.
This comes after a recent study showed thousands of teenagers across the UK were developing gambling habits.
It claimed 60,000 12 to 15-year-olds were gambling at least once a week.
Some bet so heavily they skip school to try to win some cash.
Stealing money
Lee started gambling when he was a teenager. "I started putting a few quid on games of football with my mates," he said.
"It wasn't anything serious but once I won some money it started to develop into a habit that I couldn't get out of.
"Once it's in your brain you're always living for the next bet.
"When I stopped involving other people and when I just gambled on my own to try and make a living from it, that's when things got a lot more serious.
"I would go online every morning and start betting straight away.
"I would just keep logging on every day and constantly put money on anything."
Lee eventually went on to gamble thousands of pounds at a time.
He got into so much debt he began stealing money from work in order to feed his habit.
He said: "When you lose a big amount it's absolutely crushing. But within 10 to 15 minutes you're thinking about how you're going to win it back."
Faced with so much debt, he eventually decided to confess what he'd done and lost his job
"I had three options," he admitted. "I was either going to kill myself, hand myself in or runaway and I'd like to think I made the right choice."
'Addictive'
GamCare say the nature of gambling has changed over recent years with more and more adverts for betting websites and betting firms sponsoring football teams.
Jane Rigbye from the charity said: "What we're trying to do is encourage people to talk about gambling and how to gamble responsibly.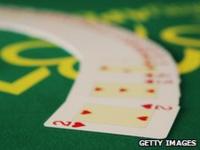 "Obviously with drugs and alcohol you'll find lots of education in schools and parents set boundaries.
"But around gambling only around 5% of parents are having a conversation with their children about it.
"It can be as addictive as drugs and alcohol and we want to make sure the risks are taken into account in the curriculum and in conversation with parents."
The Department for Education in England say it is already a recommended option for teachers to discuss gambling with school children but it isn't compulsory.
A spokesman told Newsbeat: "We're clear that all young people should have high-quality teaching and we will set out our plans to overhaul the entire curriculum later this year.
"We are always happy to listen to views on strengthening teaching."
Lee has now stopped gambling and agrees young people need more warnings so they don't end up in the same situation he got himself into
"I don't think you can watch a TV programme without seeing an ad for gambling of some sort," he said. "It's very in your face nowadays.
"It's the worst addiction because it's much more hidden.
"If no one sees your bank account then no one knows what is going on. It can be a very lonely addiction.
"It can happen to anyone. I'm supposed to be intelligent and educated but it still happened to me."