Lady Gaga attacks 'unjust' policy at rally
21 September 2010

From the section

Music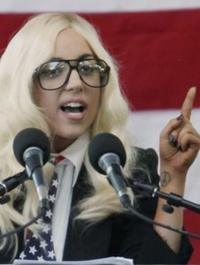 Lady Gaga has appeared at a demonstration to make a speech criticising the US military's 'Don't ask, don't tell' policy.
The 24-year-old spoke for 20 minutes during a rally at the University of Southern Maine in Portland, calling the policy "unjust" and "wrong".
Currently lesbian, bisexual and gay people can serve in the US military as long as they keep their sexuality a secret. If they reveal their orientation they face dismissal.
Gaga recently wore a 'meat dress' at MTV's VMAs, saying the outfit was a protest at the arrangement.
Military 'homophobia'
A key Senate vote today (21 September) will decide whether to begin debate on legislation that includes a repeal of 'Don't ask, don't tell'.
US Politicians including Republican Senator John McCain, who lost out to Barack Obama in the 2008 presidential race, are fighting to keep the law in place until later this year when the Pentagon completes a study on the impact of lifting the ban on troops.
Appearing in front of an American flag wearing a blazer, tie and large glasses, Gaga addressed the crowd at the afternoon event saying the policy was "against all that we stand for as Americans".
"If Congress and the president are not going to repeal this DADT policy then they should be more clear with us who our military is protecting, who are tax dollars are supporting."
She added: "We should be sending home the straight soldier whose performance is being affected by his homophobia."