Facebook phone plans are denied after internet report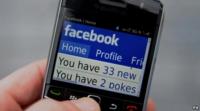 Facebook has announced it is going to try to push deeper into the mobile phone market.
But at the same time the social networking giant has denied plans it is going to build its own smartphone.
Reports over the weekend on technology site TechCrunch.com suggested Facebook is "secretly building a phone".
A spokesperson rubbished that report though saying the story "was not accurate" and that the company "is not building a phone".
Since then TechCrunch.com has hit back with an article responding to that denial.
'Social integration'
There's no doubt that Facebook is eager to push itself further into the mobile world.
Last week it launched Places in the UK following releases in the US and Japan earlier this month.
Similar to other location-based services like foursquare and Gowalla, it lets users "check in" to wherever they are.
Aimed at the site's 150 million users who access it through their mobiles it's that kind of service a Facebook spokesperson said it was keen to develop.
"Our view is that almost all experiences would be better if they are social," the spokesperson said.
"So integrating deeply into existing platforms and operating systems is a good way to enable this.
"The bottom line is that whenever we work on deep integration people want to call it a 'Facebook phone'.
"But our real strategy is to make everything social and not build one phone or integration."