The Blackout sell dinner-dates to fund new album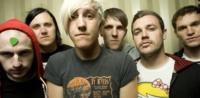 Emo-rockers The Blackout are funding their new album by asking fans to pay to have Christmas dinner with them, play Xbox or host a gig in their house.
The south-Wales group have teamed up with company Pledge Music in order to make the money they need to fund a new album.
Some of their more lucrative offers such as "spending a day with them at Bristol Zoo" or offering "signed Birthday cards" have been criticised.
Electro-pop rapper Example said: "I don't think the future of the music industry is, 'Have dinner with me and my Nan for £75'."
Blackout justification
After launching the bid to raise cash last week The Blackout have received 242 pledges and acquired 59% of the money they need.
Unlike a lot of bands who've used Pledge to generate money in the past The Blackout did not find themselves without a record label but were impatient to follow-up 2009's The Best In Town.
Lead singer Gavin Butler said: "If we didn't move now then the next record wouldn't be out until the middle of next year - basically we couldn't sit around and wait for that.
"Without the fans we wouldn't make another record so we owe them so much.
"All the things that are on there are things that fans have always said they'd love to do with us. So we thought we may as well incorporate those ideas as well.
"Even now today, it'd blow my mind to sit down with one of my favourite bands and just have a meal."
'Cleverer ways'
The move hasn't been met with universal approval though.
Whilst rapper Example admits "a lot of people say the music industry is in disarray" he points towards grime MCs such as Tinchy Stryder and Dizzee Rascal who've started record companies themselves without financial input from fans.
"I think a lot of bands should look at new opportunities rather than charging people money to come play Xbox with them," said Example.
"That's not really getting your name out there or your brand or your music.
"It's fine if people want to pay that for you but I personally think there are cleverer ways to do it.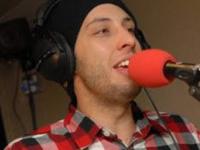 "Sometimes people want a quick-fix and sometimes it takes a decade to get to that level."
Girls Aloud's Nadine Coyle, who will release her debut solo album via her own label and supermarket Tesco this autumn, thinks artists have to be imaginative.
"It's each to their own but the music industry isn't like it used to be before," she said.
"I wasn't around back in the day where everyone got private jets here and there.
"It was money everywhere - people have to be more reserved now.
"It's a good thing if you're agreeing to do it for a charity or something but I suppose there's so many ways of doing stuff now. It's probably a new craze."
Backlash
The Blackout say they understand that there will be those who won't agree with their reliance on their fans but that they remain defiant on their plans.
"Like with a lot of new ideas a lot of criticism comes with it until you see it finally work and get a record made," said Butler.
"It's a great way for up and coming bands to get money together to make records and not rely on trying to get that deal.
"Everyone gets what they want - the band gets to make a record and the fans get to listen to that record."