Rapper T.I. has been arrested with his wife in LA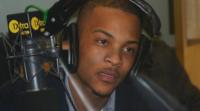 Rapper T.I. and wife Tameka Cottle have been arrested after police in Los Angeles claim they smelt cannabis coming from their car.
LA sheriff's deputy Mark Pope says the arrests were for possession of a controlled substance.
He said the 29-year-old, whose real name is Clifford Harris Jr, and the 36-year-old Xscape singer were given bail for $10,000 (£6,500).
The rapper was taken into custody on Sunset Boulevard during a traffic stop.
T.I. was released from prison in December after serving several months for illegal firearms possession.
New album
The Atlanta rapper revealed earlier this summer that he was planning to release his new album "by the end of the year".
He wrote most of the record while in prison after being locked up in 2007.
T.I. was released from a halfway house in March and has done 1,000 hours of community service which included warning young people about the dangers of guns, drugs and violence.
In recognition of his time spent inside jail, the rapper's seventh studio record will be called King Uncaged.
He's also appearing in US box office hit Takers which stars Idris Elba, Chris Brown, Hayden Christensen and Zoe Saldana.
T.I. and Tameka Cottle got married last month while the rapper was out of prison on probation.
If he's charged and found guilty, he could be sent back to jail.