Dizzee Rascal does 'something different' with Shakira
2 September 2010

From the section

Music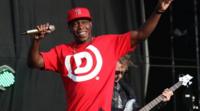 Dizzee Rascal says the track he's recorded with Colombian pop star Shakira will prove any doubters wrong.
He admitted that the collaboration may raise a few eyebrows but said that the song works.
"I know it sounds a bit mad now, but you'll see it and see what's going on," said the rapper.
"It's me doing something different man, on a merengue tip."
Dizzee said recording the song went smoothly, despite it being a last-minute idea.
He said: "Nice girl to work with - it was easy. It was one of those ones off the cuff, 'Oh do you want to work with Shakira, she's in town?... Yeah!'"
'Girl is a nutter'
The rapper jetted to Barcelona last week to shoot the video and says that, predictably, it features a lot of Spanish.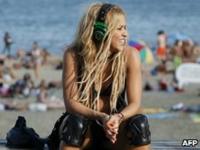 The track's called Loca and will feature on Shakira's upcoming album, Sale El Sol, due out in November.
Dizzee's lyrics include: "That girl is a nutter / hot though, heat up when I touch her /... I'm loving it / she's got a mean old bumper, you should see what she does with it."
You Got the Dirtee Love, his collaboration with Florence Welch, was a big hit earlier this year and reached number two in the charts.
However, Dizzee said that after finishing Sky talent show Must be the Music - where he's a judge - he's hoping to chill.
"I'm officially not meant to be doing anything - but something will come up", he admitted.