Your Facebook comments: Pakistan cricket betting scam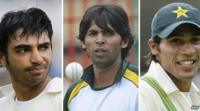 Three Pakistani cricketers being investigated over a betting scam are unlikely to play again during the team's tour of England. Police are questioning Salman Butt, Mohammed Asif and Mohammad Amir over claims they deliberately bowled no-balls during the fourth test at Lord's. The ICC's anti-corruption team has been told to look into all the claims urgently.
_________________________________________________________
On Facebook Radio 1 listeners have been having their say on the betting allegations involving three members of the Pakistan team.
Keith Stuchbury thinks it might actually be good for cricket, a bit of excitement for once.
Roxanne Stanbridge says if found guilty they should be banned for life: "I think it's terribly sad though as the 18-year-old is a talented bowler."
Andrew Steeples says Asian bookies are fools for taking bets on when a no-ball will occur. He added: "Thankfully our own bookies aren't as stupid so don't offer odds on stuff like that."

Dan Jacobs says if the allegations are proven, it should be the end of their international careers and an example needs to made of cheats in sport.
Andy Stewart thinks their winnings should be given to the flood relief.
Martin Nichols is thinking along similar lines saying: "As well as a lifetime ban those found guilty should be handed a substantial fine that goes towards the Pakistan flood appeal."
Terry Day says he's gutted. "I especially feel sorry for Stuart Broad and Jonathan Trott whose world record partnership rescued England on day two [of the last test]."