BBC in court over Top Gear's The Stig'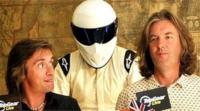 A court case has started to try to keep the identity of The Stig a secret.
But the case itself is being held in secret.
It's because the barrister representing the BBC, Richard Spearman QC, said the press and public should be excluded from hearing the legal arguments.
Agreeing that it was right to proceed behind closed doors, the judge said publicity would defeat the reason behind the hearing.
Mr Justice Morgan added though that his ruling would be in public saying judgement would be given "in due course".
The BBC's gone to the High Court to stop a book being published which would reveal the name of Top Gear's mystery test driver.
They claim it would spoil the show for viewers and say The Stig can't be unmasked as he's signed a confidentiality agreement.
Harper Collins, the publishers of the book, have criticised the BBC for using licence fee money to block it.