Guns N' Roses criticise organisers at Leeds Festival
30 August 2010

From the section

Music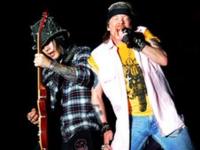 Guns N' Roses lead singer Axl Rose claimed his "war" with Reading and Leeds' bosses "wasn't over yet" as they headlined the final night of this year's festival.
The singer directed a string of expletives at organisers as his group ran over their allotted performance for the second time.
They came on stage 30 minutes late after being an hour late at Reading.
They played half an hour over their time before being told to stop.
Afterwards festival boss Melvin Benn said he would book the band again but "wasn't sure they'd play for me".
See all the performances and pictures from the Reading and Leeds Festivals
Eventful weekend
Up until the final half an hour Guns N' Roses' set had been largely straightforward with a show which included songs like Welcome To The Jungle, Sweet Child o' Mine and November Rain.
They were due to finish at 2300 [BST] but continued to play. At 2320 they left the stage and returned for a one song encore of Paradise City and then began criticising organisers.
Speaking to Newsbeat after the band came off stage festival boss Melvin Benn said: "You have to put on a show and every band is focussed on only their aspect of what a festival is - that a band comes off unhappy is something I'll have to live with."
He described the booking of the band for the bank holiday weekender as a "good decision for the festival" adding that it had "paid great dividends".
The scenes followed their appearance at Reading festival on Friday where the band had their set cut short by organisers after breaking a newly-extended curfew.
They protested by continuing to play without amplification with Axl Rose singing along through a megaphone.
In between their performances Axl Rose had demanded the bosses of Reading and Leeds festival say sorry to fans at Reading for cutting their set short.
Writing on Twitter he said: "At the very least the fans deserve an apology from those responsible for the nonsense."
Later he added: "Don't know what it is w/us or these last 2 shows. Takes the fun out it 4 everyone fans, band n' crew alike but whatever."
Meanwhile, touring guitarist with the band DJ Ashba described organisers as "cocky" and "money grabbing".
It's the latest in a prolonged drama involving Guns N' Roses and the festival.
In the run-up to this year's event organisers said they would have to pull the plug on the band's set if they ran over their schedule.
That's after Guns N' Roses took to the stage late at Leeds festival 2002.
Artist backlash
However, many artists were critical of Guns N' Roses' actions over the weekend.
Lostprophets' guitarist Mike Lewis said: "It was so predictable that he was going to be late that nobody bothered questioning why. It's so predictable, it's boring.
"I don't see it as him being a rock star or rock 'n' roll. I just see it as being disrespectful.
"It's disrespectful to all the other bands. It's disrespectful to all the people who've bought tickets. I think the guy is a joke and I think his band is a joke."
Marina and The Diamonds' Marina Diamandis said: "I just think it's juvenile. It's really selfish to keep people waiting.
"Actually they did it because they [the organisers] said if you're an hour late you won't get paid so they were 58 minutes late in Reading."
"It's like, 'Grow up'. You're not king of the world."
Elsewhere, the final day of this year's Leeds festival saw performances from Queens Of The Stone Age, LCD Soundsystem and Mumford And Sons who drew a huge crowd at the NME/Radio 1 stage.
Reading festival was brought to a close with shows from Blink-182, Paramore and Klaxons.
Radio 1 will have highlights from this year's Reading festival from 7pm on 30 August.