Carl Barât says new Libertines material is on the cards
26 August 2010

From the section

Music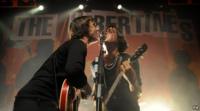 Libertines co-frontman Carl Barât has hinted that there could be new material on the way from the band.
The four-piece have just performed their first two gigs after six years away - one for family and friends and one for fans.
He told Newsbeat: "Part of the reason I've been confident about doing this is because I never wanted to do it when everything was hanging on it.
"We'd like to write some new material, we'll have to get our acts together a bit better in terms of doing that.
"If this works out then I guess we'll all hear the call. It'll happen if it's going to happen."
He explained the band were all suffering from pre-performance nerves before their first reunion gig and paced up and down the dressing room singing Vera Lynn's We'll Meet Again.
Fear factor
He said: "It was quite overpowering. There was a lot of emotions - initially fear was the biggest one. It was emotional.
"In my head Libertines has always been sweat and beer flying and cigarette smoke and flashing lights. It felt quite sort of bare. We had to sing for our supper to an extent."
He admits to making a "few boo boos", but described the performance as a rehearsal which helped to break them in after their time away.
Libertines fans were queuing outside hours ahead of their London gig at The Forum and Carl says he appreciates the support they get.
He said: "I can barely believe it myself, how much people live by it and believe in it, which is quite a funny thing for a band.
Dancing girls
"I do have some apprehension that if people mythologise it too much they'll be expecting magic. I have a lot of apprehension in life."
The band are set to perform at Reading and Leeds this weekend, but Carl says they plan on keeping things simple.
"It's not like we're headlining... with that comes responsibility to do all your showstopping dancing girls and what not," he said.
"I think The Libertines are going to do what The Libertines have always done, which is the four of us doing what we do and we've always done it.
"It could be in someone's bathroom or in a pub or in a street or at Reading and Leeds really."
As for being back with the band, Carl admits it was like working with old mates.
"It was amazing being in a room with people who are essentially your best friends for many years," he said.
Pete Doherty, Carl Barat, Gary Powell and John Hassall announced they were reuniting in March, after they split up in 2004.
They're appearing before headliners Arcade Fire at this weekend's Reading and Leeds festivals.