Taio Cruz fancies gangster film role
26 August 2010

From the section

Music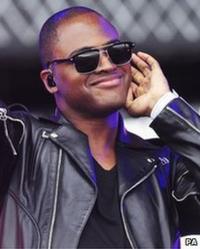 British singer and songwriter Taio Cruz says he'd love to take on a movie role playing a gangster.
The music producer, who's recently worked with the likes of Rihanna and The Saturdays, reckons he'd be great at the East End accent.
He told Newsbeat: "I haven't been offered any movies yet but I would love to be in a movie. Guy Ritchie needs to holler at me.
"I would love to play a British gangster or something that requires an English accent so I don't have to put on a fake American accent."
The singer, who admits he rarely ever gets time for a holiday, is looking likely to take the number one spot in the UK charts this Sunday, although in the US he's being pipped by Eminem.
He said: "I think my fans are doing an exceptional job to get me as high up as we have so far and I'm very thankful for that.
"I'm from the UK so the UK have really come out full force and they've body-slammed Eminem and Rihanna."
Unknown musician?
The producer is also releasing a greatest hits collection, which he admits is "insane" after only having released two albums.
He said: "I've been so fortunate to release so many singles,
"I've got six singles off the first album and another five singles of this new album, so there's definitely a lot of records that people will have heard before but not necessarily known that it was me but they liked the song.
"I remember hanging out with some girls once at dinner and they didn't realise they had heaps of my music on their iPod. They loved all the songs but they didn't know it was the same guy that did all those songs."
Taio's up for best male artist and best song at this year's BT Digital Music Awards, which he's really pleased about because he says he'd love to be a member of the "new generation of musical artists".
Take That collaboration?
The producer's just finished working on two record's for McFly's new album, as well as with The Saturdays and David Guetta.
He's also got plans to work with Swedish House Mafia very soon.
Taio hasn't worked with Take That before but he says he'd like to: "Gary Barlow - amazing writer and those boys are so nice as well.
"Their new music - things like Greatest Day - I'm a big fan."
The entrepreneur is also working on a new season of his Rokstarr brand sunglasses, as well as more clothing, and admits he has high hopes for his business.
He said: "I definitely enjoy being creative but at the same time you can't download a T-shirt for free.
"We all want to be as successful as we possibly can, so for me I would love to eventually one day be able to see a Rokstarr store on the high street as big as Top Shop or H&M or something."
As for his rock star lifestyle, the "newly single" songwriter admits to being a bit of a "homebody" but says sometimes he likes to let off steam.
"I don't really go too crazy. I have like a once a year mad extravaganza where I'll buy everyone drinks at the club and let's just all go mad," he said.