Sexually transmitted infections up for 10th year in row
25 August 2010

From the section

Health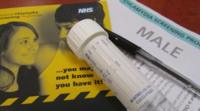 The number of people being diagnosed with sexually transmitted infections (STIs) in the UK has gone up for the 10th year in a row.
More than 482,000 people were told they had an STI last year, 12,000 more than the year before or an increase of 3%.
The Health Protection Agency (HPA) says the problem continues to be far worse among the under-25s.
Two thirds of all women diagnosed last year were in that age range, while more than half of all the men were.
It's also a particular problem among gay men.
The number of people being diagnosed has been steadily rising since the HPA first started releasing figures a decade ago.
The HPA says this year the stats include results from the National Chlamydia Screening Programme which has made it easier for people to get access to testing.
Chlamydia diagnoses increased by 7%, more than any other STI.
Chloe, who's 22 and from Birmingham, admits to having regular unsafe sex.
She gets tested every six months and said: "The guys that you hang around with, it's just the lifestyle isn't it, going out and being a bit unsafe?
"I know at 22 you should be careful but it's just not reality."
Eighteen-year-old Lisa laughed as she told Newsbeat: "If you haven't got a condom, you just do it anyway, don't you?"
Reinfection
The HPA says while the increase could be partly because more people are getting checked out, tests for some infections like chlamydia, gonorrhoea and herpes are also now more sensitive.
It's still worried though that many younger people, particularly girls, still aren't practising safe sex.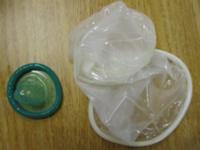 It's feared they often don't have the confidence to ask their partner to use a condom.
Another problem is that one in ten 15 to 24-year-olds who are told they have an STI go on to become reinfected within a year.
Doctor Gwenda Hughes from the HPA said: "Reinfection is a worrying issue. The numbers we're seeing in teenagers are of particular concern.
"It suggests they're repeatedly putting their own, as well as others' long-term health at risk."
The figures also suggest that gonorrhoea may be becoming more resistant to the main antibiotic used to treat it in the UK.
It's feared it could get worse over the next five years and that practising safe sex may be the only way of controlling the infection.
The advice for under-25s is always use a condom with new partner and get tested for chlamydia every year.