Lady Gaga overtakes Britney Spears for Twitter record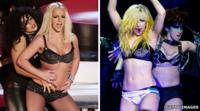 Lady Gaga has become the most popular person on the social networking site Twitter.
The Bad Romace singer has taken the crown from the previous queen of tweets Britney Spears.
Lady Gaga now has 5,735,554 compared to 5,701,236 following Britney Spears (Monday 23 August).
Britney Spears was only on top for three months after claiming the number one spot from Ashton Kutcher.
According to internet research company famecount.com Lady Gaga's facing growing competition from Justin Beiber though.
While she is the most popular star she's not the fastest growing.
That title belongs to the Canadian teenager who is currently racking up almost 800,000 new followers a month.
If both carry on picking up followers at the same rate he could challenge her for the Twitter throne within six months.
But for Gaga's fans, whom she describes as Little Monsters, her tweets can't be beaten. One reads:
"The Monsterball [her current tour] is by nature a protest: A youth church experience to speak out and celebrate against all forms of discrimination + prejudice".
Daniel Dearlove, founder of famecount.com said: "This milestone is yet more evidence of the extraordinary popularity that Lady Gaga has rapidly achieved.
"Social networks like Twitter are helping stars turbo charge their ascent to fame, and extend their engagement with fans as never before."
Gaga's new title as Twitter queen comes after she became the most popular living person on Facebook.
On 25 June she overtook American President Barack Obama and currently has more than 16 million fans on the social network.