Britney Spears tells Twitter she's 'having fun' on Glee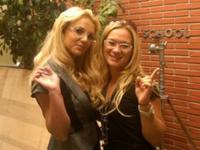 Britney Spears has told followers on her Twitter feed that she's "having so much fun" on the set of Glee.
The US singer is filming a cameo for an episode which will feature her music.
Her songs will feature in fantasy sequences the characters have when they visit the dentist and are put under anaesthetic.
The second season of Glee, which follows the fortunes of a high school choir, begins in the US next month.
Britney Spears, 28, opened her Twitter conversation by saying: "About to do my first shot of the day for Glee tweeties! Here we goooo!"
Then an hour later she updated her feed saying: "What's up GLEEKS? Having so much fun on set!! Can't wait for you guys to see the episode!"
Earlier this month the show's creator Ryan Murphy told Ryan Seacrest's morning radio show in America that the episode wouldn't go into her personal problems over recent years.
He said: "It's about her music and not her personal life. We're handling Britney with sort of kid gloves.
"I really admire what she's done with her life and how she's turned things around."
Madonna and Lady Gaga have both had episodes dedicated to their music although neither appeared on Glee.
Britney Spears released her last studio album, Circus, in 2008 and toured the world last year supporting it.