British boxer Amir Khan urges more help for Pakistan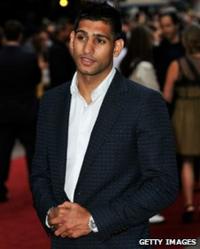 British boxing champion Amir Khan is urging people to give more money to flood-striken Pakistan.
14 million people are now affected by the flood waters.
The UK has so far donated £7 million to help but the UN and other aid agencies are warning it's not enough. Although waters have receded in some areas, more rain could bring new destruction.
Pakistan's President Asif Ali Zardari has made his first visit to see damage caused by flooding in the country.
He was criticised for visiting the UK when the disaster first started.
WBA world light welterweight champion Amir Khan says it's easy for people to donate cash for food, clothes and shelter.
He's been speaking to Newsbeat presenter Chris Smith.
________________________________________________________
"Me being Pakistani and having family coming from there, not long ago I was there, and I remember it was raining.
The monsoon weather kicked in and it was raining quite heavily. But I thought it was quite good because the weather cooled down. It was so hot over there.
The next thing I hear when I flew back to England was loads of floods happened, the river banks got flooded, people have lost their homes, they've lost their jobs, the livestock, they've lost everything.
Over 1,600 died and over 14 million people have been affected by this disaster. So I want to show my support being a British Pakistani and get people donating.
We've been quite lucky because none of us have been affected from my family.
My mum, she's still in Pakistan, but is coming back. I've been calling her every day just to see if she's OK and if they're all safe. She said everything was OK.
People are just saying it's totally bad. There are so many people who are suffering, so many people who are dying day by day.
The rain is just not stopping so they need as much aid as possible. At the moment there's been half a million people who have been aided.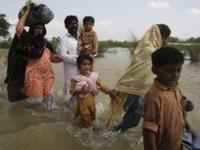 There's still another 14 million people who are out there who need aid.
The best way to do that is for everyone to get together and every penny that they donate counts. The easiest way to donate is via text message. Text "give" to 70707.
In this moment in time especially, the Pakistani people really need him (President Asif Ali Zardari) and if he's in England, I think he should be there in Pakistan with his own people helping to support them.
Maybe it was quite important he had to be in England but it would have been good for him to have been there.
People need shelter, they need tents, they need food, clothing. They've lost everything.
I think every little thing is going to make a massive difference. The main thing is food and clothing and shelter where they can sleep and stay."