The Saturdays number one in midweek chart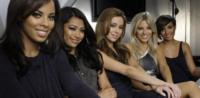 Girl-group The Saturdays are on course for their first UK number one single, according to the official midweek chart update.
The fivesome's track Missing You is holding off competition from last week's top five entry Club Can't Handle Me by Flo Rida featuring David Guetta.
Arcade Fire's The Suburbs and Eminem's Recovery are currently battling it out for number one in the UK albums chart, with Slim Shady currently ahead by a "couple of hundred copies".
Having reached top spot with his single Beautiful Monster last Sunday Ne-Yo has dropped to fourth in the midweek chart.
Rapper Tinchy Stryder, who has scored two number ones in the past, looks likely to head top five with his new single In My System.
Listen to Radio 1 at 3.30pm on Wednesdays for the official chart update with Greg James.