Ellie Goulding has recorded a track with Tinie Tempah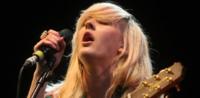 Ellie Goulding has collaborated on a brand new a track with Tinie Tempah called Wonderman.
It's to be included on the rapper's forthcoming debut album Disc-Overy released latest this year.
The Hereford-born singer has contributed vocals to the song.
Speaking to Newsbeat she said: "He's one of these people I believe in, and not just because of his music, but because he's a lovely person."
Tempah collaboration
Goulding explained that she became a big fan of the Pass Out rapper after he supported her at a gig earlier this year.
"It's about not having all that much when your little and then working very hard and then having a lot more than you used to have and being very grateful," explained Goulding. "So I can relate to it - it's really cool."
The singer, who went to number one in the UK albums chart with her debut Lights, also revealed that she gets a lot of stick from people on Twitter teasing her about her exercise regime. The singer is a keen road runner.
"People often say I should be more rock 'n' roll and when I Tweet about running people go - yawn.
"And I think, 'Well no, my life has been full of all sorts. I've done a lot of things in my time but I feel like now I've grown up and I just want to focus on my music. So I'm not that rock 'n' roll."
"I keep myself to myself. I don't go out much. I live by myself. So it's like when I talk to journalists I find myself really opening up because I don't talk to people so much about stuff.
"So when they ask me questions I tend to be quite open - I don't see anything wrong with that.
"I think there's a thin line - you shouldn't give away your soul but at the same time I like to let things out and I like to think people can relate to those things. It makes me feel better."
Goulding's new single The Writer is out on 22 August.