Lap dancing and stripper ads banned from Job Centre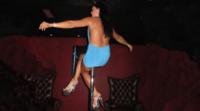 Job Centres in Scotland, Wales and England won't be allowed to advertise posts for lap dancers, the government's announced.
The ban will apply to any job which is related to "direct sexual stimulation", so it also includes strippers and applies to any work via webcams.
It won't apply to other job ads in the adult entertainment industry like bouncers, cleaners or shop workers.
Giselle, 28, has worked as a lap dancer in London, Birmingham, Plymouth and Newquay.
She got into the industry through an ad in the Job Centre when she was 19.
"It's really fun - it's like theatre really" she said.
"To me, this move by the government implies my work is in the sex industry, and it is not."
Giselle says she's now lap dancing to fund her training as a barrister.
'Hard to give up'
She told Newsbeat about the time she got her first job: "I never thought I would actually take it but when I got there the girls were so nice and were wearing long cocktail dresses.
"It was nothing like what I expected. I went back for an audition. I had to copy a dance.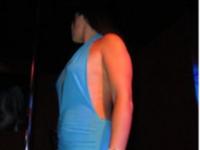 "The first time I did it for real I was so nervous my knees were knocking together. It was empowering though that men wanted to pay to watch me.
"One night in London I earned £5,000 in one night... But the pull of the money does make it very hard to give up."
'Under pressure'
Giselle also described nights where customers have insulted her for being too fat, having small breasts or hair that's too dark - reducing her to tears but she says she understands "it just comes with the territory".
Figures show that Job Centres advertised more than 350 jobs in the adult industry in 2008. Applicants had to be over 18.
The government say they've decided to ban the ads to protect young girls.
Employment Minister Chris Grayling said: "We shouldn't put vulnerable people in an environment where they're exposed to these types of jobs and could feel under pressure to work in the sex industry."
The move comes after a public consultation which revealed significant concern about a public service advertising these kind of jobs.
It also indicated people who worked in this industry could be vulnerable to harassment and discrimination in society.
Giselle said: "We do get new girls who turn up and they don't even get as far as putting their outfits on once they've see the competition they are up against.
"This is a job to turn to when you really need money but most establishments are run well and no one is forced into it."
It's thought there are up to 30,000 lap dancers in the UK, and the industry brings in more than £2bn a year.