BBC denies Top Gear 'conspiracy' over Tom Cruise lap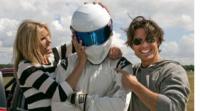 Top Gear's executive producer is denying reports that Tom Cruise and Cameron Diaz had their laps around the show's racetrack fixed.
Sunday night's programme (25 July) saw the two Hollywood stars take the top two spots on the leader board.
Some Radio 1 listeners have been texting in to the Chris Moyles and Fearne Cotton shows saying the laps were faked.
Andy Wilman says that couldn't happen and the laps were genuine.
Armchair experts
He said: "We are listening to armchair experts who don't know a thing.
"They weren't there, they don't understand how laps are done.
"Their times were accurate, their times were truthful.
"It really saddens me that people who don't know anything can then sour the whole moment."
But some texters weren't sure you saw the finish line and that Tom Cruise doing a wheelie would have slowed him down.
Cruise and Cameron Diaz took on the 'Star in a reasonably priced car' challenge last Thursday and each drove a Kia cee'd around Top Gear's famous test track.
The programme was broadcast on Sunday night (25 July) and saw Cruise post a time of 1 minute 44.2 seconds.
Cameron Diaz, 37, did it in 1 minute 45.2 seconds.
Both beat the previous best posted by Harry Potter actor Rupert Grint, who'd done the lap in 1 minute 45.5 seconds.
"The lap timing is covered very accurately," said Andy Wilman. "There are people with stop watches, there are cameras in the cars and we have people on the corners at each track to make sure nobody cuts the lines.
"You can't cheat basically."
Practice laps
Tom Cruise, 48, and Cameron Diaz were in the UK for the premiere of their action film, Knight and Day, held in London's Leicester Square last week.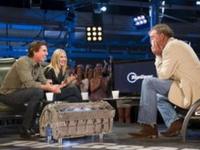 But earlier in the day the stars spent several hours at Top Gear's test track at Dunsfold Aerodrome in Surrey.
"Tom Cruise turned up really early," said Andy Wilman. "He put more effort into getting that lap time than I've ever seen anybody do.
"He was doing 190mph (305km/h) in the Bugatti Veyron down the runway. He knows what he's doing in a car.
"He took a load of instruction from The Stig. The celebrities that come on, they usually do four or five laps with The Stig, then they go out solo.
"He spent longer with him and was asking more detailed questions, so that his first dry lap was in the 1'45s already. He'd already done the lap record on his first dry lap."