Snoop Dogg: Next album especially 'for the ladies'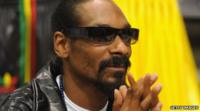 Snoop Dogg has promised fans that his new album will be out before Christmas and it'll be especially for the ladies.
The rapper's calling it A Woman's Touch and says a movie will be connected to it.
"I gotta tone it down a little bit," said the 38-year-old. "You wanna make something for all your fans and there's never been a moment I've given them a whole record.
"I've always given them bits and pieces and I feel like I owe them a whole record.
"Whether it's my grandmother, my wife, my daughter, my mother - the women of the world that mean something to me - I owe them that."
The new release is likely to be out in November, said Snoop.
The rap star also said he was "honoured" when Katie Perry asked him to appear on chart-topping single California Gurls, and that he plans to work with her again.
"She was fun to be around. She gave me her direction on what she wanted and I put it into effect for her.
"Looking forward to working with her on my new album - don't think that was it! There's more to come."
Snoop also revealed he met Perry's fiance, Russell Brand, and that he was a "crazy customer".
"He real cool," he said. "I'm happy for them that they're getting married. I love to see people come together."
The California-born rapper joked he'd be getting the couple "pinstripe pants" and a "green bikini" as wedding gifts.