F1 technology could help British troops in Afghanistan
The Ministry of Defence is to start testing Formula 1 technology to see if it can be used to help British forces serving in Afghanistan.
The hope is that microchips used to send data to engineers from F1 cars could be adapted to help commanders of armoured vehicles like Jackals, Ridgebacks, Mastiffs and Panthers.
If a vehicle is attacked or suffers a roadside bomb blast, the chip will be able to tell medics which part has been affected and what the likely injuries will be.
Trooper Ollie Parsons, from A Squadron the Household Cavalry Regiment, is a Jackal driver just back from Afghanistan.
He said: "It's definitely a good idea. Anything that helps make the vehicle better to use would be welcomed by the rest of the guys.
"It would enable us, if we did suffer an improvised explosive device (IED) blast, to know what's wrong with the vehicle straight away so we can either try and fix it or know we're still good to carry on.
"A bullet went through my jackal and knocked out my brakes.
"I didn't know at the time and ended up losing control.
"If I'd have had this new technology then I would have been able to handle the situation a lot better."
Survival
Tim Routsis is the CEO of Cosworth engines which supply the Williams Formula 1 team and is carrying out the research.
"Our job is to try and see if we can make vehicles survive IEDs better," he said.
"What we have to do is measure what happens to a vehicle when it gets hit and from that work out how to make it more survivable."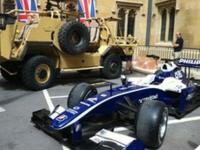 The first 'proof of concept' stage of this £200,000 contract will last a couple of months before engineers know if the system can work with Ministry of Defence vehicles.
If, as is hoped, it is a success further development would take about a year before the technology is ready to be put in place on the ground.
Wing Commander Jim Pennycook is a military advisor on defence technology.
He said: "It works very much like the black box in an aircraft, in that it constantly collects data about the vehicle that can be analysed.
"We're working with Cosworth to try and give the commander in the vehicle an instant assessment of the damage that has occurred if it's been hit by an IED.
"The aim is to investigate if we can get the same data transmitted back to base for the operational control there to decide whether there are any casualties and what sort of casualties they might be.
"That then gives the medical team on base advance warning to cope with those casualties."