Rage Against The Machine rock Download Festival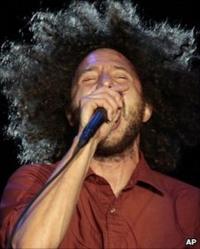 Rage Against The Machine produced a storming set as they headlined this year's Download Festival.
The US band, who made it to the Christmas number one spot after a Facebook campaign, poked fun at X Factor judge Simon Cowell on Saturday night (12 June).
Introducing Know Your Enemy, lead singer Zack de la Rocha said: "This isn't about Simon Cowell - it's about what he represents."
The band also played Testify, Township Rebellion (in which they criticised Israel's blockade of Gaza) and finished with a thumping version of Killing In The Name.
After starting 20 minutes late, the band was also forced to restart third song People Of The Sun after a crush at the front of the crowd.
Organisers say no one was injured although de la Rocha did have to warn fans "to take care of each other" repeatedly during the LA band's set.
Meanwhile, Them Crooked Vultures, featuring Dave Grohl, Josh Homme and John Paul Jones, warmed up the crowd for Friday headliners AC/DC.
The Australian veterans brought their own stage set complete with a train, a massive blow up doll (for their track Whole Lotta Rosie) and two huge trademark Angus Young caps above the lighting rig.
Mosh pits
The festival, held at Leicestershire's Donington Park race track, was its usual mix of metal, hard rock, hair metal and everything else in between.
Welsh rockers The Blackout produced one of the performances of the weekend on the second stage.
The band was joined by Phil Jenkins from Kids In Glass Houses for their set, who acted as an extra drummer alongside normal sticksman Gareth Lawrence.
Guitarist James Davies says they enjoy playing festivals like Download because it's great exposure.
"It's a really unique thing," he said.
"Whenever you play a festival you hope that some people are going to be there to see you because they know you're there.
"But then you get a lot of people who are just walking past going, 'What's this racket?'
"And because festivals are so expensive these days, fans just go to Download or they just go to Reading.
"It's the only chance they get to see bands, so there's always the possibility that you're going to expose yourself to people who haven't seen you before. That's really cool."
US metal band Lamb of God took the prize for the most impressive circle mosh pits of the weekend during their Saturday set on the main stage.
Deftones also made an emotional appearance before Rage Against The Machine, playing a raft of new songs.
The band's bassist Chi Cheng was left in a coma after a car crash in 2008.
Lead singer Chino Moreno said it was a sad situation but he was gradually starting to respond to treatment.
He said: "He is making progress.
"It's gonna be a slow process but we're all optimistic and we're all hoping the best for him and hoping that one day he returns to speak and be able to communicate."
There were also video tributes for Slipknot bassist Paul Gray, metal singer Ronnie James Dio and former Stereophonics drummer Stuart Cable, all of whom have died recently.
'Pretty cool'
Day three saw Slash performing on the main stage.
He played a mix of old and new, finishing with a rousing rendition of Guns N' Roses classic, Paradise City.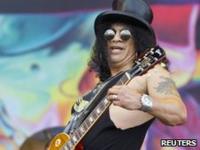 The Velvet Revolver guitarist has now played at Donington Park four times with four different bands.
He said it was great to be back.
"It's pretty cool," he said.
"Donington, Download, Monsters of Rock - whatever you want to call it - is a special event for me.
"It's definitely one of the special summer destinations.
"You get here, you get ready and go and play and then you pack up and split to the next festival."
Meanwhile, comedy rock act Steel Panther provided the laughs on the second stage with an appearance from Anthrax guitarist Scott Ian, while Motorhead and Lemmy played the main stage.
Airbourne frontman Joel O'Keeffe also scaled the lighting rig while playing a guitar solo on the same stage an hour later.
Mud bath
The weather held out for most of the three-day event.
But it wasn't to last with fans getting a soaking from Billy Idol's set on Sunday afternoon until just before headliners Aerosmith took to the stage with the ground quickly turning into a mud bath in many places.
Organisers say more than 100,000 fans turned out each day.
Download promoter Andy Copping said it had been the festival's best year ever and a fitting way to celebrate Donington's 30th anniversary.
He said: "Download 2010 is going to be one of those years that's going to go down in the memory.
"I've had calls from many promoters throughout the world going, 'How the hell have you put that bill together?'
"And it is - it's huge. Just a fantastic package of bands."
Listen to Download highlights and see backstage pictures with Daniel P. Carter on Radio 1's Rock Show