Capello loses his rag, but Cole's pretty cool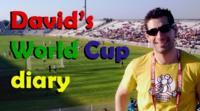 Day Three
We had our first look at England's training base today at the Royal Bafokeng Sports Campus near Rustenburg. Fit enough for royalty? Yes, and Premier League stars.
Security is extra-tight as you come in. You even get shepherded down a long paved road to the training pitch which is a fair old walk.
And as soon as we arrived, we witnessed something very rare - Fabio Capello losing his temper.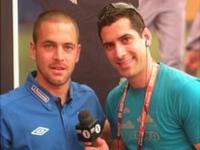 He had a rant at a photographer for pointing his lens towards England's medical room and snapping away.
It lasted only a few seconds, but we managed to capture it on camera.
WATCH: England boss loses his temper at snappers
We're only allowed to see 15 minutes of training, so after that it was back to the official media centre.
It's quite cool - there's an area where you can just hang out and have some food.
Sausages and sofas
Hein works for the catering company and he served me an amazing boerewors (South African sausage) with tomato and onion sauce.
There are plenty of sofas to lounge around on, or if you're feeling energetic, there's table football too.
David's diary: Day two - monkey madness
And on every wall, they've put up big pictures of England's squad members as inspiration. Or something.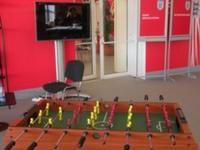 Once the word spread about Fabio's flip-out, there was a flurry of activity as journalists filed their reports and the snappers sent back their photos.
I did my bit from the radio room, and then we waited for Joe Cole.
Footballers aren't usually that exciting in interviews, but he gave us some really funny detail about their safari trip… like trying to work out their chances of avoiding an elephant stampede!
An interesting day all in all, and England seem pretty calm as they gear up for that opener against the USA on Saturday. Well, the players do anyway…
Follow David on Twitter @davidgarrido