Duffy: My exposure after first album was 'too much'
9 June 2010

From the section

Music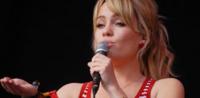 Duffy says the exposure she received around her debut album Rockferry meant she was 'scared' and 'overwhelmed'.
The Nefyn, north Wales singer, had the biggest selling UK album of the year with her 2008 debut.
Speaking to Newsbeat she said: "I don't know if I had a change in myself, but it got a bit scary and got a bit overwhelming.
"It got a little bit too much last time actually - I was trying to keep a sight on who I was."
'Stripped back'
Duffy was speaking at last night's Glamour magazine awards in London - one of her first public appearances since commencing sessions for her forthcoming second album.
"The only way to get a sight of who you really are is to look at yourself in the face. I stripped myself back to what I know," she said.
The Warwick Avenue singer boarded a plane to New York alone to begin working with ex-Roots drummer Questlove (now going under the name of Amir).
"I had to go away and remind myself of what I was doing it for. It was the music that kept me going.
"I've had a lonely few months," she joked.
"I've been hiding away - it's kind of nerve-wrecking being back. I forget what it was like. Sometimes it gets a little bit fabricated."
A release date and title for Duffy's new album have yet to be confirmed.
Following the success of her first album, Duffy also won a trio of Brit awards in 2009 including British female, British breakthrough and British album.