Albarn speaks over Gorillaz replacing U2 at Glastonbury
27 May 2010

From the section

Music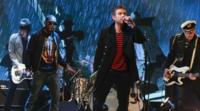 Damon Albarn says he's "surprised and nervous" after Gorillaz were offered U2's Friday night headlining slot at this year's Glastonbury Festival.
It'll be the virtual band's only UK festival appearance this year.
Albarn, who headlined Glastonbury in 2009 with Blur, says it will be a privilege to appear at the festival and they won't let anyone down.
He said: "I was surprised and a bit nervous. I appreciate that it's a big deal but I think we can pull it off."
U2 were forced to pull out of Glastonbury and cancel their US tour after Bono had back surgery.
The singer said he was "heartbroken" at having to take the decision.
'Magic'
It means Damon Albarn, 42, will be headlining his second Glastonbury in a row.
But speaking on Zane Lowe's Radio 1 show, he says it will be completely different to playing with Blur.
He admitted: "I'm not thinking for one second that I can compete with that kind of thing.
"This is something very separate and I wouldn't try to compare the two at all.
"Obviously it's a great shame for U2 that they can't do that. I know that they were really looking forward to playing that gig. They've never done Glastonbury.
"It's magic, Glastonbury. It's definitely magic in so many ways."
Gorillaz released their third album, Plastic Beach, in March and unveiled their new set at the Coachella Music Festival in America in April.
Damon Albarn says he hopes some of the stars who appeared on the record can sing with them at Glastonbury on Friday 25 June.
"I just hope we can convince Lou Reed and he grasps that it's a real privilege to get the chance to do it.
"Then we'd have a complete house and that really would be amazing."
Albarn also says he's never had the chance to spend any time experiencing Glastonbury as a punter.
He said: "It's nice being at the beginning because [Blur] was right at the end and we had to get off stage and get in our bus and drive straight off, which was really strange.
"I didn't get a chance to experience it. I'd quite like this time to be able to do my thing and hang out for a while."