Pixie Lott launches 'movie' career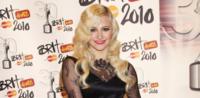 Pixie Lott has been speaking about her part in upcoming Nickelodeon film Fred: The Movie.
The Essex singer plays the part of Judy, the love interest of main character Fred, in the "comedy" film which is set to be released this summer.
Speaking to Newsbeat she said: "I didn't think I'd be doing acting so early. I thought it'd be further on.
"I went to a stage school so I studied in drama, dance, singing and musical theatre so I had that background. I love entertaining."
She added: "It's about an internet phenomenon. Obviously Fred is the main character and I play the part of Judy which is the girl that Fred loves. The whole film is about his journey to find Judy."
New music
Meanwhile the Mama Do singer has revealed she'll release a "repackaged" version of her debut album Turn It Up with a number of new tracks in September.
The reissue will include at least one song she has worked on with Daniel Bedingfield, who she has worked within the past.
"I heard a song that he'd written recently and I absolutely loved it so I wanted to go in and record it," she said.
The 19-year-old also recently spent time in the studio with American singer Jason Derulo.
"He's a hard worker. He's amazing, such a talent.
"We just didn't stop. We just kept working - we finished at 6am.
"We worked on some duets which we really fun. We're doing some of the same festivals this summer so maybe we could sing them together - that'd be nice."