N-Dubz rapper took mephedrone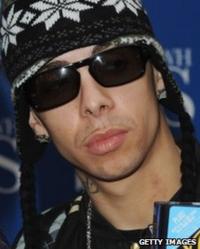 N-Dubz rapper Dappy has admitted taking drug mephedrone before it was made illegal.
Speaking on GMTV (28 April) the 22-year-old said: "It's just not a thing to be doing. I've learnt my mistake. I'll never do such things again."
Pictures from CCTV footage filmed in an Essex nightclub last month published in The Sun show the rapper, real name Dino Contostavlos, inhaling a white substance.
Mephedrone, otherwise known as Meow Meow, was classified as a Class B drug earlier this month after worries growing numbers of people were taking it. It's very different to the heroin substitute methadone.
'Silly stuff'
Explaining what happened Dappy added: "It was a night out and just a bit tipsy. I fell into the wrong place at the wrong time. I'll don't think I'll ever touch any silly stuff again.
"I just want to say that I'm more than glad genuinely that they've banned this thing because I've seen how many people are dying off it.
"You have to try things to understand that they're bad. But not always. I felt unwell that day."
His bandmate Tulia Contostavlos added: "I don't condone drugs. I've never touched them, never have, never will."
Since appearing on the TV show Dappy has released an official statement, it said: "I took meow meow on a night out with mates. Meow meow was legal then and lots of my mates were taking it too.
"I now want people to realise how dangerous mephedrone and similar drugs can be. It can ruin lives. I'd want any of our fans to stay well clear."
N-Dubz won three awards at last year's Mobos and had a top 10 hit with their album Against All Odds last year.
Dappy's made headlines before. He had to apologise to a Radio 1 listener after sending her abusive messages, including one which said "your gonna die", after she texted the station to call him "vile".