Women should get chlamydia test 'after every partner'
9 April 2010

From the section

Health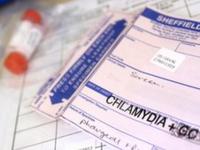 Women should be tested for chlamydia every time they have a new sexual partner, according to a group of researchers.
Chlamydia is the most common sexually transmitted infection (STI) in the UK and can cause pelvic inflammatory disease, leaving women infertile.
The researchers, writing online in the British Medical Journal (BMJ), say screening alone is unlikely to cut the chances of getting pelvic disease.
Now they're warning that women should be tested every time they start seeing a new partner, even if it's just a few months since they were last tested.
They're worried women may see themselves as having the "all-clear" following a negative result when they are actually still at risk.
Chlamydia - what you need to know
Annual testing
Experts from London hospitals conducted a trial on 2,529 sexually active female students from 20 universities and colleges.
According to Health Protection Agency figures on people attending GUM (sexual health) clinics, there were 123,018 cases of chlamydia in 2008 among men and women of all ages, up from 121,791 in 2007 and 113,713 in 2006.
Of the cases in 2008, 61,155 were among women.
Cora told Newsbeat she thought more regular testing was a good idea: "You don't know who your previous partner has been with and they're not going to share that with you.
"Even if there's nothing wrong with you, you want to get it checked out."
Another Radio 1 listener though, thought it wasn't realistic: "That's not going to happen. When people have one night stands they're going to be like: 'No, I can't be bothered'."
Writing in the BMJ, the researchers said: "Some evidence suggests that screening for chlamydia reduces rates of pelvic inflammatory disease, especially in women with chlamydial infection.
"However, the effectiveness of a single chlamydia test in preventing pelvic inflammatory disease over 12 months may have been overestimated.
"Policymakers might consider focusing on more frequent testing of those at higher risk, such as women with a new sexual partner or a recent history of chlamydial infection.