Foo Fighters to reunite with Nirvana producer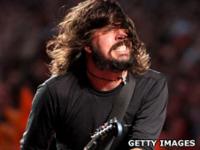 Dave Grohl will reunite with producer Butch Vig for the first time since recording Nirvana's Nevermind to work on Foo Fighters' new album.
The 41-year-old drummer and singer will begin recording the follow-up to the band's 2007 album Echoes, Silence, Patience & Grace in September.
He said: "It's the first album the two of us have made together in 20 years.
"There's something that Butch does that helps a song become a bigger song. At this point I just want to rock."
Dave Grohl is currently touring Europe with his side-project Them Crooked Vultures.
The ex-Nirvana drummer explained that reuniting with the producer will help Foo Fighters return to a more primal sound for their new material.
"We've done a lot of acoustic stuff, the last couple of records have had a lot of pianos and mandolins. This one, I just want it to be on ten.
"We're going to do it in my garage. It's just a garage, it's got junk and a refrigerator in it."
Unused material
Speaking ahead of Them Crooked Vultures' appearance at this year's Teenage Cancer Trust residency at London's Royal Albert Hall, Grohl said Foo Fighters have been keeping unreleased new material for a couple of years.
"When we ended the last tour about a year-and-a-half ago or two years ago we had a lot of music we'd written on the road," he explained.
"We had an albums worth of stuff ready but we didn't want to go into the studio and do it because we knew it'd put us right back out onto the road - we really needed a break."
Grohl says he has "30 or 40 ideas" that the band will reconvene to work on in the autumn.
"The way you make an album dictates the way it sounds," he explained.
"One of my favourite records we made was our third one which we made in my basement in Virginia.
"We had sleeping bags that we nailed on the wall for sound proofing.
"The general vibe on that record is really comfortable. I'd got upstairs and make chilli and come downstairs and do a vocal on a couch. It's the same idea.
"To me it's about switching up the process, we've been using pro tools and all that computer stuff the last couple of records.
"We're putting that stuff in the closet and getting our old tape machines out so that we can just do it like we used to do it."
Them Crooked Vultures return to the UK in June to play this year's Download festival.