Major honoured for taking on Taliban in Afghanistan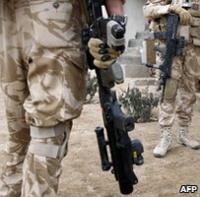 More than 140 members of the Armed Forces received awards in the Operational Honours List on Friday (19 March).
Among them was Major Giles Harris, Company Commander of the Prince of Wales's Company, 1st Battalion Welsh Guards.
He's been awarded a Distinguished Service Order (DSO) for capturing a Taliban stronghold.
A DSO is given in recognition of what a unit, or sub-unit, has achieved during its time on an operational tour.
The 36-year-old was on his second tour in Afghanistan when he led a team of more than 130 men who secured a part of Helmand province before the elections.
As a result they helped to change the dynamics of the area, as well as open a school.
Maj Harris explained how he pulled it off. "A Taliban-held town is a town where there is no rule of law," he said. "The Taliban can move freely to intimidate people and take away their liberties.
"So it was really a matter of getting in there, getting our boots on the ground and showing the locals that we were the winners."
But with such a risky operation comes the danger of an unknown enemy in an unfamiliar area.
'Meeting the enemy'
"It was really not knowing what we were going to face when we got there, that was the first thing," Maj Harris explained.
"Inevitably there's the meeting the enemy face on, the rocket-propelled grenades and the small arms fire and of course IEDs (Improvised Explosive Devices).
"You don't know what's going to be there waiting for you and I think that's probably one of the biggest challenges when you plan one of these operations."
Although the unit had the element of surprise when they first entered the town, the following months saw a pattern of attacks on the soldiers who were trying to hold the perimeter.
"The boys were under a lot of pressure stuck out in isolated checkpoints, being under daily attack at very close range," Maj Harris added.
'Three-way stand-off'
Part of the ongoing battle was securing the hearts and minds of local Afghans, which wasn't easy according to Maj Harris.
He said: "They were very cautious to begin with, as you can understand.
"They wanted to make sure they backed the right side, as I think any of us would.
"For the first couple of weeks there was a three-way stand-off between the Taliban the locals and us."
"It was all about communication and persuasion and making them understand we were there to stay and we brought the better options."
The six-month tour wasn't without casualties. The Battalion lost five members and the poignancy isn't lost during days like today.
Maj Harris said: "As an army our eyes are open on these things.
"Everyone is pleased for each other to be given recognition for things that they've done and their unit has done but it's never far from your mind, the cost we pay.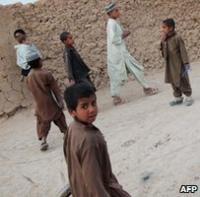 "Your thoughts are never far away from the people who are wounded or died.
"But there's enormous corporate pride in what we do. When you're actually out there you do see the benefits and you do see the difference you make."
As with any talk of Afghanistan, the question always comes back to whether the war is winnable.
A recent BBC poll suggested that 64% of British people didn't think it was.
But Maj Harris says that from his experience the British presence is having an effect.
"I suspect 64% haven't been there," he said. "I can personally say that the effect that we're having on a weekly, monthly basis is very positive and our efforts are truly appreciated by the Afghans, there's no doubt about it."