Sony fixes PlayStation Network 'fault'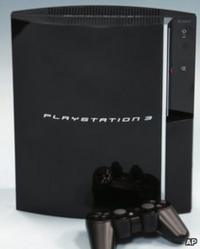 Sony says it has fixed a problem with older models of its PlayStation 3 which stopped gamers using its online network.
Owners of the PS3's "Fat" model were told to stop using the machine because of a problem with the PlayStation Network.
The console thought 2010 was a leap year and tried to re-set itself to January 1 2000.
But the company says the system should now be back to normal.
The problem didn't affect PS3 Slim systems, on sale since September last year.
In a statement on the PlayStation blog, Sony said: "We are aware that the internal clock functionality in the PS3 units other than the slim model, recognized the year 2010 as a leap year.
"Having the internal clock date change from 29 February to 1 March (both GMT), we have verified that the symptoms are now resolved and that users are able to use their PS3 normally.
"If the time displayed on the XMB is still incorrect, users are able to adjust time settings manually or via the internet.
"If we have new information, we will update you through the PlayStation.Blog or PlayStation.com.
"We apologize for any inconvenience this may have caused."
On Monday evening the company issued a statement saying there were various reasons why older versions of the PS3 had problems connecting with the PlayStation Network.
They included:
The date of the PS3 system may be re-set to Jan 1, 2000.
When the user tries to sign-in to the PlayStation Network, the following message appears on the screen; "An error has occurred. You have been signed out of PlayStation Network (8001050F)".
When the user tries to launch a game, the following error message appears on the screen and the trophy data may disappear; "Failed to install trophies. Please exit your game."
When the user tries to set the time and date of the system via the internet, the following message appears on the screen; "The current date and time could not be obtained. (8001050F)"
Users are not able to playback certain rental video downloaded from the PlayStation Store before the expiration date.
The PlayStation Network is used by millions of people around the world.
It allows users to play their friends at games like Fifa over the internet and also do things like download software or visit online stores.